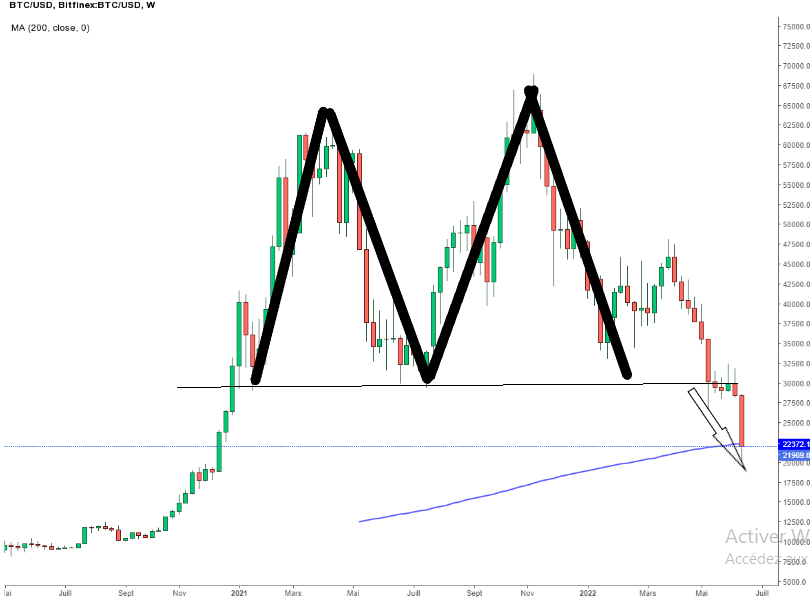 Bitcoin investors timidly <> after heavily <
BTC/USD indeed marked a high of $22.990 overnight, up over 14% from yesterday morning's low of $20.091.
The Federal Reserve confirmed a 0.75% rate hike last night as expected, with a positive impact on Bitcoin and risk appetite in general, as the Fed confirmed a widely anticipated decision, which had already been largely incorporated with the fall of the last few days, both for Bitcoin and risk assets in general.
However, it is important to note that Bitcoin's rally since last night, despite its magnitude, does not change the still bearish chart context of the cryptocurrency.
The technical outlook for BTC/USD remains bearish despite the rebound
Indeed, while the fact that Bitcoin did not test the $20,000 support is encouraging, it remains below several key thresholds that limit its bullish potential, starting with the 200-week moving average located at $22,372 currently.
Moreover, based on the weekly chart, it is a break above $32,000 that would be necessary to significantly improve Bitcoin's bottom profile.
However, at this stage, a break below the key $20,000 level, which has not happened since December 2020, remains a very likely scenario. Remember that this area is all the more important as it corresponds to the December 2017 high ($19,890).
Moreover, the break above this zone in December 2020 was the trigger for Bitcoin's first <<broadcaster >> rally, which took it almost in a straight line to $60,000.
Below this $20,000 area, and excluding psychological thresholds, the next chart support will then be the June 2019 peak at $13765.
Bitcoin could fall to $10,000 according to Gundlach
Regarding recent statements about Bitcoin, it is worth noting that DoubleLine Capital CEO Jeffrey Gundlach, also known as the <>, said yesterday on CNBC that parts of the cryptocurrency world are exploding and that Bitcoin could still fall to $10,000.
"When it broke below $30(k), it looked on the chart like $20(k) was going to happen quickly, and it did. The trend in the crypto is clearly not positive," Gundlach said, adding, "It looks like it's going to be liquid. I'm not bullish at this $20,000 or $21,000 on bitcoin. I wouldn't be surprised at all if it went down to $10,000."
"We've already seen around the edges some explosions in some parts of the crypto world, and that could be a harbinger of some problems," Gundlach also said, presumably referring to the collapse of TerraUSD, or more recently, fears about a Celsius Network collapse.